Hello blog readers! My head in still spinning from the whirlwind that has been the last month of my life, and it's not over yet. I just returned from Massachusetts from a beautiful wedding, and am headed back out on Friday to Michigan for another one! Couple that with things going on in daily life at home & I'm playing lots of catch-up. :)
Since it will probably be a couple more days before I am able to get the time to post Michelle & Luke's sneak peek, I decided I should post something in the meantime.
Sooo... This post is dedicated to the super-fab-awesome bridal party that Michelle & Luke had at their amazing wedding. A large group of these folks were also a part of the wedding I shot in Mass last year, so it was so much fun to work with them again. They're all beautiful, so it made my job super easy :)
A very special shout out to the men of this group.... I have to say that you guys really impressed me. 9 times out of 10, the groomsmen are the ones that I have a hard time rounding up and keeping together... Well, since the girls schedules fell a little behind in getting ready, I was running late getting to the church for the guys shots before the wedding. I flew into the church doors & started scouting out the groomsmen, and Greg (groomsmen & the groom's brother-in-law) came straight up to me, asked who I needed & where I needed them, and within minutes they were all right where they needed to be, and worked it out for me GQ style. You guys ROCKED it.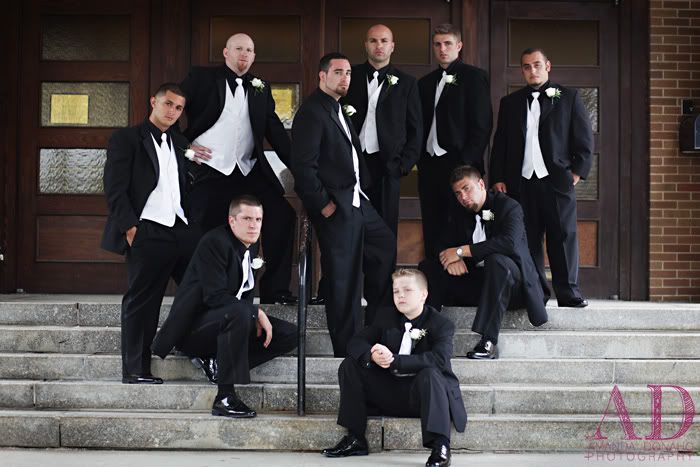 And the girls.... Really, could this group be any more gorgeous?! Much much more to come on these beauties soon!