My birthday is here, which means it's time to announce the Wedding Photography Giveaway winner!
First let me say that this decision was SO HARD to make! There were some awesome entries to this Wedding Photography Giveaway and reading such beautiful stories about each of these couples was so much fun. There were ALOT of entries that I received for wedding dates I already had booked. (FYI, June 2010 is all booked up folks :) I had to enlist the help of my husband & one of my best friends to help make this final decision because I was having such a hard time!
Without further adieu, our winner is....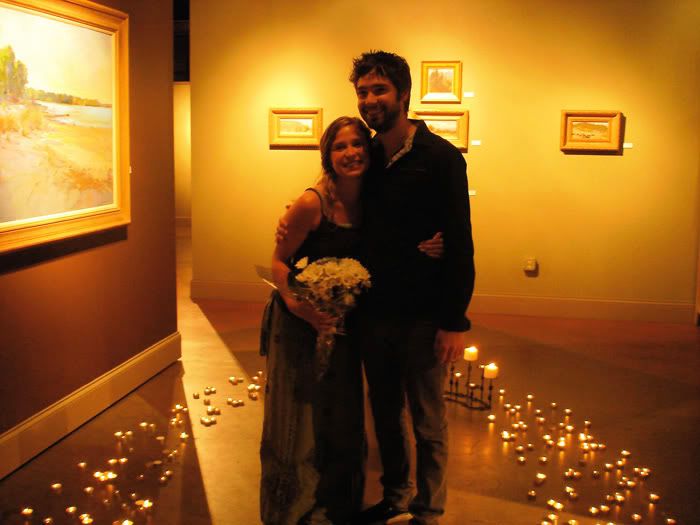 Deeann & Loyd of Nashville, TN!
The Skinny:

Deeann & Loyd met during a summer camp when they were 13 and became pen pals. Their friendship grew over the years and the two fell in love. They just became engaged this past Saturday (above photo is from their engagement night) & are planning a November wedding. Their wedding is going to be very unique, as they are having a handmade do-it-yourself wedding day. As Deeann describes "I am the type of person that wants everything to have a meaning more than it being fancy or nice..."
Why Them?:

I have a great admiration for people who pursue their passions in this life. It's a hard thing to do, often requires great sacrifice, and always requires alot of trust in God. (I know this first hand :) Both Deeann & Loyd are artists, and make their living doing so. I know this is not always an easy road, but it is a very rewarding one.
I received an email from one of Deeann's friends, Rachel, to tell me a little about how they serve in their community. They're a part of a small group in their church that goes out monthly to help where they can in the small ways. They've been known to paint swing sets, hang out at nursing homes, go to the hospital and just sit and chat with patients, and bring groceries to those in need. One other thing Rachel shared with me is that last year Deeann donated several of her paintings to be auctioned off to help raise money for another community project. Herein lies the reason that I picked this couple... I know that they will pay it forward.
So Deeann & Loyd... Congrats! I can't wait to get to know you both! Keep loving others, serving your community, and pursuing your creative talents!
Again, a huge THANK YOU to everyone who entered this years giveaway.... What? "THIS years"?? Yeah, well, who knows... maybe we'll make this a yearly event :) It's just too fun!